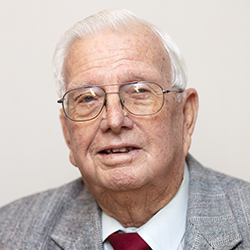 Bill Powers
Civic Leader

Throughout his life, Bill Powers has made a lasting impression on Grapevine and his community. A 1949 Grapevine High School graduate, Bill and his twin Bob were born in 1932 in Grapevine, Texas. Bill was an outstanding athlete, lettering all 4 years in football (co-captain in 1948) and in basketball (co-captain in 1949). He received many honors including Who's Who in 1948 and GHS School Favorite in 1947; additionally, he was selected for All Tournament Basketball Team, as well as offered basketball scholarships to two colleges.

Bill served in the US Army 1952-1954 during the Korean War, serving with his twin brother. He married Mae Pearl Foster, also from Grapevine; they have two children, Mark and Debby, and one grandchild, Austin.

After serving his country, he was employed by L.W. Parker Furniture for 25 years, later sold real estate for Reed & Son Realty then went to work for the City of Grapevine in the Fire Department in 1973. He originally joined the Volunteer Fire Department in 1955, became paid in 1973, and served as Fire Marshall and assistant Chief. In 1984 Bill became Fire Chief until he retired in 1999.

Bill served his community in diverse ways. He was president of the GHS Ex-Students Association for many years, organized and directed the GHS Homecoming Parade multiple times, and served on the GISD (now GCISD) as trustee for 3 terms. He was the original member of the Grapevine Housing Authority, served on early Planning & Zoning Commissions, was past president of Tarrant County Arson Squad, and served as an officer in both the Tarrant County Fire Fighters Association and North Texas Fire Chiefs Association. He was a leader in Grapevine to acquire land and build Grapevine's first Little League Park. Bill has also been involved in area sports since high school – umpiring and coaching Little League Baseball for 26 years, as well as Pee Wee Football, Men's Basketball and Softball teams.

Bill has received many honors for his lifetime of service. He was named the D.E. Box Citizen of the Year in 1971, awarded the Don Ramey Community Service Award in 1999, inducted into the GHS Hall of Fame in 1985, and was named Tarrant County Fire Chief of the Year. As an avid GHS fan, Bill was honored by the team to serve as Parade Marshall for the 1996 State Championship Football celebration. Now he is a proud 50-year member of the Grapevine Masonic Lodge and a fixture at the Grapevine Golf Course.