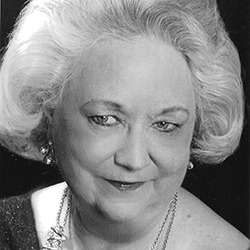 Billie Rea Hurst Ebersole
Educator

A 1955 Grapevine High School graduate, Billie Rea Hurst Ebersole made a lasting impact on the GCISD community through decades of involvement in our schools and community. Billie traces her Grapevine lineage back to her grandfather who came to Grapevine around 1904. His son, Bill Hurst, Billie's father, graduated from Grapevine High School in 1929. Billie graduated in 1955, and Billie's daughter Lori graduated in 1977.

Billie taught elementary students for thirty-eight years, serving thirty-five years with first graders at Cannon Elementary School. She was chosen to represent Cannon as Teacher of the Year and then recognized as district Teacher of the Year in 1970-1971. In 1977 she was awarded a Lifetime Membership in the Parent-Teacher Association. Later, she was acknowledged as a member of Who's Who in America's Teachers. After retiring from teaching, she was a mentor in the Parent Educator Program, helping mothers of preschoolers. She's a member of the Grapevine Ex-students association and was inducted in the Grapevine High School Hall of Fame in 1997. In 2019 Billie earned the fifty-year membership pin from Delta Kappa Gamma, a women's educator society.

In her community, Billie worked for the Grapevine Convention and Visitors' Bureau for eight years. She's a member of the Grapevine '36 Club, Grapevine Historical Society, Grapevine Heritage Society, and the former Grapevine Music Club. Billie joined the First Baptist Church in 1945 and has participated in the church choir, taught Sunday school and served as a greeter.

Billie Ebersole's importance to GCISD is still being felt. She's an advocate for Grapevine and the Mustangs, and especially enjoys keeping in touch with many first graders from Cannon Elementary.