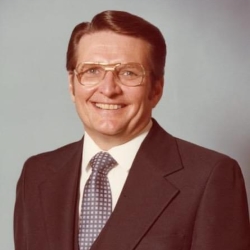 Bob Burrus
Civic Leader
Bob Burrus' legacy of active community involvement highlights his leadership roles in both Grapevine and Colleyville. His dedicated service, honorable character, and lifelong contributions emphasize the heart of this deserving gentleman.
In 1966, Bob became involved in the grocery business in Grapevine and later in Colleyville. By 1974, he and his wife Kay owned those two grocery stores and expanded Burrus Supermarkets so that they had a total of six stores. His philosophy was "if you take care of your customers and employees, they will take care of you," and they did!
Bob served on the GCISD School Board for six years. During that time, he was a leader in developing the co-op program for the district. He employed hundreds of high school students, working with their schedules so they could still participate in extracurricular activities. In addition to supporting the programs in GCISD, Bob was a strong supporter of children with special needs and employed them in each of his stores. Burrus Supermarket made large donations to the GHS athletic programs, FFA, band, and countless other school organizations. From 1960 to the early 2000's, every printed school program had a Burrus Supermarket advertisement. He was awarded Colleyville Business of the Year in 1981 and Grapevine Business of the Year in 1988 for his support and involvement in these communities. All five of his children worked in the grocery stores while they were in high school, and all of them are GHS graduates.
Giving his time to serve organizations was a focus for Bob. He supported GRACE, the Palace Theatre Restoration, Baylor Grapevine Hospital, Grapevine Pee Wee Football Association, and served as president of the Grapevine Athletic Association, Grapevine Mustang Booster Club, the Grapevine Chamber of Commerce, and the Airport Cities Chamber of Commerce.
Bob worked hard to grow and expand his business, and he has earned many awards throughout the years. In 2000, he was selected as one of the IGA International Retailers of the Year. In addition to his career in the grocery business, Bob has served the community and school district with conviction and integrity. He earned the Rotarian of the Year Award, Friend of Education, Grapevine Chamber of Commerce D. E. Box Citizen of the Year, Community Achievement Award, Colleyville Chamber of Commerce Community Spirit Award, and the Keeper of the Flame Award from Baylor Grapevine Hospital.
Bob Burrus has made a lasting personal impression on both Grapevine and Colleyville.