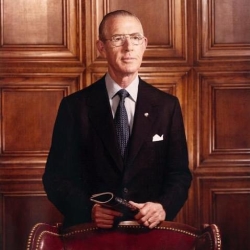 Joseph N. "Joe" Box
Civic Leader
A visionary who would lead Grapevine and the surrounding area in the last half of the 20th century, Joe Box lived in Grapevine from the age of two, graduating from Grapevine High School in 1934. In the depths of the Depression, Joe worked as a bookkeeper at Grapevine Feeds, later B & D Mills, and then at First National Bank as a bookkeeper and teller. He attended SMU, working to pay for his education, graduating in 1940. He would later earn a master's degree from Harvard Business School. During World War II, Joe served with the United States Army Air Corps from 1942 to 1945 as well as serving with distinction during the Korean War, rising to the rank of major. After serving in the Army Air Corps with one posting with the "Flying Tigers" in China, he returned to Grapevine and worked at the First National Bank, eventually becoming president and chairman of the board. By moving the First National Bank from the center of Main Street to South Main, he encouraged growth to the southern part of the city that would be beneficial when DFW Airport was built.
He served two terms on the Grapevine ISD School Board during which time the Board saw the building of a "new" high school on Worth Street. He was inducted into the Grapevine High School Hall of Fame in 1991 due to his many civic endeavors.
After serving on the school board, Joe was elected to the Grapevine City Council, and elected Mayor Pro Tem in 1955. He was active in the Lion's Club, serving as President. He was also active in the Grapevine Chamber of Commerce, Masonic Lodge, and other organizations. He was active in the First Baptist Church, serving as a deacon. He served on the Tarrant County Hospital Board and later on the Baylor Medical Center Board of Trustees. He also served on the President's Advisory Council of the Southwestern Theological Seminary. In 1989, he received the 50 Year Banker Award from the Texas Bankers' Association. He also was on the Joint Airport Zoning Board that helped establish and position Grapevine and GCISD for what it has become today, a destination city with a thriving economy enjoyed by many.
After his retirement, Joe and his wife Cecelia Cunningham Box continued to volunteer to further improve the community. Joe Box was a pivotal figure in two of the most challenging periods Grapevine would face during the second half of the 20th century. For fifty years, Joe helped shape GCISD and his community directly, indirectly, and often anonymously.