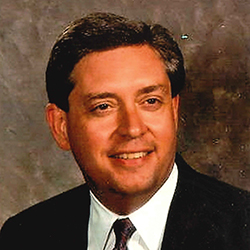 Curtis Larry Oliver
Educator and Civic Leader

A 1966 GHS graduate, Curtis Larry Oliver has tirelessly dedicated himself to building excellence in GCISD and providing leadership in the City of Grapevine. Larry, as most people know him, attended North Texas State University launching his passion for education. He taught math at GHS for 12 years before moving to the GCISD Administrative positions of Assistant Principal, Manager of Business Services, Director of Operational Services, Director of Administrative Services and Chief Financial & Operations Officer. He used his visionary talents as a positive influence to move GCISD's path to greater accomplishments.

His passion for community shows in his involvement. Larry served on the Grapevine City Council for 10 years, providing his gift for future visions during growth and change. He was later appointed to the Planning and Zoning Board where he has served over 31 years, working with Grapevine Master Planning needs and decisions. As well as other City Commissions and positions, he served as an officer for the Grapevine Kiwanis Club, Grapevine Rotary Club, was a charter member of the Grapevine Golf Association, a member and officer of the Grapevine Community Chorus, Main Street Days Festival Chairman, an officer and board member of the Tarrant County Crime Commission, American Cancer Society, is a Grapevine Citizen's Police Academy Alumni, and officer and member of the GHS Ex-Students Association.

Larry Oliver's character and dedication garnered many honors. In 1981 he was the GCISD Teacher of the Year. He also received the Outstanding Educator Award in 1983 from TCU, was named to the GHS Distinguished Alumni Hall of Fame in 1994, the GHS Faculty Hall of Fame in 2012, and was the District Tennis Coach of the Year in 1975. He received the Paul Harris Award from the Grapevine Rotary Club. He also is a Deacon in his church.