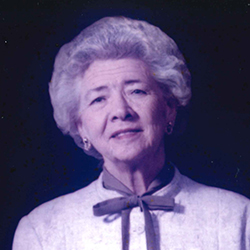 Madeleine Wilson Hemley
Educator

A legacy of song is the gift that Madeleine gave to her students and to the GCISD community. She was instrumental in starting a fine arts program for the public schools and inspiring a love for music in three generations of Grapevine students, teaching 1st – 12th grade from 1943 to 1973. She had a genius for discovering musical excellence in every child. Each year her GHS students participated in All-District, All-Region, and All-State choirs along with the Tri-State Music Festival, State Fair music days, and locally produced musicals. She started the annual Variety Show which allowed all of her students to shine, even the big football boys. Madeleine Hemley made such an impact on GCISD that the Grapevine High School Auditorium is named in her honor.

Leeta Madeleine Wilson Hemley has an inspired background. She was born in Fort Worth and grew up in Medford, Oklahoma until her parents died when she came to live with her grandparents. Madeleine received a BA in music from TCU where she co-wrote an operetta that was broadcast on national radio. She taught piano at several Fort Worth high schools and was a soloist at a number of churches. During the Depression, Madeleine also worked at WBAP as a staff artist singing in the "Three Harmonies," popular and known around the state. She married John Hemley and moved to Grapevine where she had one daughter, Peggy.

Madeleine was as strong of an influence in the community as in the schools. She became choir director at First United Methodist Church at Grapevine where she originated the Candlelight Service that continues today. She was a founding member of the Grapevine Music Club as well as a founding member of the '36 Club, a women's club established to encourage a continual desire to learn.