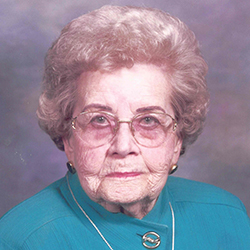 Mary Virginia Wall Simmons
Educator and Community Leader

Mary Virginia Wall Simmons is an icon of Grapevine; she lived in the area for all her 98 years, giving a lifetime of service to her community as teacher, historian, and community leader and servant.

Mary Virginia graduated as valedictorian from GHS in 1927, the first class to wear cap and gowns. She received her degree from SMU in 1932. She married Hugh Simmons in 1938 and they built a home in Grapevine. They had two children, Susan Eleanor and Thomas. It was interesting that their family dairy farm was sold in 1947 to make room for the Grapevine Dam and Lake and they moved the dairy farm to south east of Grapevine, where 20 years later, the DFW Airport took their land.

She could teach anything, every grade, every subject, even music. She taught school at Keller as teacher and basketball coach, at Birdville High School and later in 1949 started teaching in Grapevine. She taught second, fourth, fifth/fourth split, tenth and eleventh grade government, eight and eleventh grade science and coached girls' basketball. She even took the student census for GCISD for many years.

Mary Virginia was honored many times for her lifetime of involvement. She was the 1989 Woman of the Year by the Women's Division of the Grapevine Chamber of Commerce, and in 1990 was inducted into the Grapevine High School Hall of Fame. Mary Virginia was named the Distinguished Faculty Member by the Grapevine Ex-Students Association in 2004. She was the Grapevine Senior Citizen of the year in 2004, and in 2006 received the Ted Willhoite Legacy Award. She even entered her cooking in the Community Fair and won first place.

Known for her love and knowledge of all things Grapevine, Mary Virginia was a member of the Grapevine Historical Society and worked on the Grapevine Area History book and supplement, (which was dedicated in her honor) as well as on the Grapevine's Most Unforgettable Characters book. She conducted Heritage Education school tours and shared her own experiences during talks in the Grapevine Historical Museum. She was a leader in the '36 Club for 69 years, a member of the Baptist Church, and gave countless book reviews. Some people may know that Mary Virginia is the feature in the bronze sculpture "Sunday Skaters" at the corner of South Main and College Street.

Possessing an amazing memory of historical facts and data, it was said that people in times of doubt would say, "better go ask Mary Virginia." Mary Virginia was Mrs. Grapevine of the 20th Century.