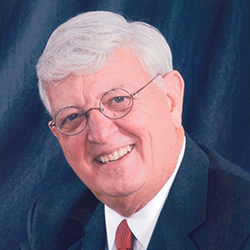 Riney Jordan
Educator

Riney Jordan was hired as a teacher in 1967 at Cannon Elementary School which began his 30 year exemplary career in GCISD. Just two years after his hiring, he was selected as the GCISD Teacher of the Year in 1969. His dedication to education was quickly recognized, and he went on to serve as principal of several elementary schools, Director of Communications, and Assistant to the Superintendent during his tenure in GCISD from 1967 to 1997. Riney's inspiring influence touched thousands of lives and helped propel GCISD to become a destination district for residents and educators. He continues to influence the educational community as a columnist for Texas School Business Magazine and is a highly sought after humorist and motivational speaker for education affiliates across America and Canada. He has authored many publications including two successful books: All the Difference and The Second Book.

Riney's involvement has not been limited to education. Known as "Mr. Grapevine", he was a community leader serving in many capacities, including the Grapevine Chamber Board of Directors, the Grapevine Convention and Visitors Bureau President, the Grapevine/Southlake Rotary Club President, the Northeast Tarrant Arts Council Board, the Grapevine Public Library Board, the First National Bank of Grapevine Board, the Sigler Excellence Foundation Board, the Baylor Medical Center Board of Directors and as Vice President of Texas School Public Relations Association. His humorous one-liners placed him in demand as Master of Ceremony for many organizations.

Riney has had many honors bestowed on him because of his hard work. He was recognized with a PTA Life Membership Award in 1977, Grapevine Citizen of the Year in 1982, University of North Texas Eagle Award in 1991, GCISD Distinguished Employee Service Award in 1991, Exemplary Texan Award by Texas House of Representative in 1993, GCISD's first Excellence in Education Award in 1996, Key Communicator Award from Texas Public Relations Association in 2000, and as an ordained Baptist deacon, the Deacon Emeritus in 2016.