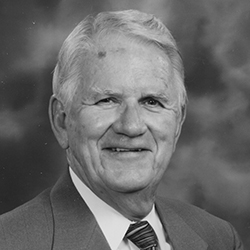 Roy Stewart
Civic Leader

Roy Stewart is a native Texan, born and raised in Fort Worth. However, he has spent decades of selfless service in and around the Grapevine area, becoming one of Grapevine's "Most Unforgettable Characters." Roy attended North Texas College and later got a BA and MBA at TCU. Early in his careers, he worked at General Dynamics and on the Board of the Region XI Education Service Center from 1967-1984, and even spent several years in the Naval Reserves. Roy and his wife Joan married in 1953 and have two daughters, Kim and Kerri. They settled in Grapevine in 1981 where Roy grew into his next career of Roy Stewart Homes and has since proudly built more than 500 homes in area. Many people have called Roy and Joan Stewart two of Grapevine's "Dream Builders."

Roy has actively served many areas of the Grapevine community. He was a member and Vice President of the GCISD Board of Trustees 1984-1993, on the Grapevine City Council 1996 -2014, as well as the GCISD Education Foundation Member and Founding Chairman. He was on the Board of Directors of NorthStar Bank of Texas, Chairman of the Board of Directors for Texas Bank, Chairman of the 1994 Grapevine Bond Committee, active in the Grapevine Rotary, and the Grapevine AMBUCS. He was Past President of Baylor Regional Medical Center Board and contributed to the Special Care Nursey at Baylor, Stewart Hall.

Honors from the community found him many times including D.E. Box Citizen of the Year 1989, the Grapevine Rotarian of the Year, the 2003 Distinguished Friend from GC Education Foundation, and the Northeast Leadership Forum Distinguished Leadership Award in 2017.

Not only has he played a leadership role that impacted the educational, government and community organizations, but he has also inspired others to step forward and make a difference in their own communities and organizations. A truly great gentleman.