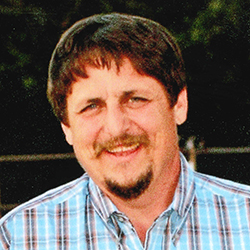 Russell Kidd
Civic Leader

Russell Kidd is a second generation Mustang, graduating from GHS in 1980. Since then Russell has dedicated himself to serving his community and his alma mater. While at GHS he was a 2 year varsity football letterman, making the All Area Football Team, voted sophomore prince, a member of the Acapella Choir and of the FFA, and the founding member of the senior spirit organization the Grapenuts.

Since graduation he has continually been involved in GHS athletics and the GCISD FFA, although most often as a behind-the-scenes force. He has presided as president of the GHS Ex-Students Association for over 20 years. He is a vital part of the GHS Ex-Students Association, working to preserve the Mustang legacy and being instrumental in organizing homecoming activities ranging from the parade to the alumni banquet. Russell was also involved in the formation of the GHS Faculty Hall of Fame in 1998.

He is devoted to the City of Grapevine through committees, community events, and little leagues. Russell has served on the Grapevine Building Board of Appeals, devoted time to the Planning and Zoning committee, and countless hours on other community projects such as the renovation of the Homestead on Nash Farm and Love Chapel Church of God. He served on the Pee Wee Football Board, Pee Wee Basketball Board as well as coaching youth football, baseball, basketball and hockey.

In 2001, Russell was honored by GHS as "Mr. Mustang" for his help on the formation of the GHS Baseball Hall of Fame. In 2006 he was inducted in to the GHS Hall of Fame and as a "Super Fan" of the football program for his dedication and support to the team over the years. In 2009 he was honored by the Grapevine Heritage Foundation for his volunteer work at Nash Farm, and in 2016 he received the Preservation Advocacy Award. Most people know him as a caring family man, a role model, and a passionate lover of Grapevine and GHS.