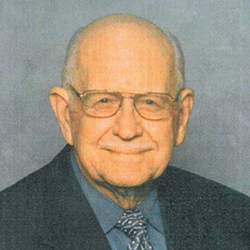 Wiley Deloys (Ted) Willhoite
Civic Leader

As a civic leader, education supporter, volunteer, and historical artist, Wiley Deloys (Ted) Willhoite was legendary, resulting in the Grapevine Chamber's establishing the Ted Willhoite Legacy Award. Born in Ft. Worth, Ted's family moved to Grapevine where he attended Grapevine public school through 11th grade. He went to North Texas Agricultural College and returned to Grapevine to open Ted's Feed Store. He was a Main Street business leader for 43 years, including partnering with his father at Willhoite's Garage.

He was devoted to the Grapevine Public School District, serving on the School Board from 1945 to 1963. During that time the population of Grapevine doubled, making demands for the growing educational needs extremely important. Ted took a leadership role in the formation of the Grapevine Lion's Club and remained a Lion for the remainder of his life. Ted was also a lifetime member of the Grapevine First United Methodist Church, serving in many positons, including Steward, choir member, and the treasurer for 30 years. He was election judge and served on the Housing Authority Board, but kept keen interest in Grapevine's new municipal golf course. Ted was a charter and lifetime member of the Grapevine Heritage Foundation. Because of his thorough, first-hand knowledge of Grapevine history, he became a key participant in the Foundation's Heritage Education Program and Main Street tours. He used his artistic talent to leave a rich history in his paintings of the early school buildings. His hand drawn maps of the late 1800s and early 1900s are a vital resource for the city today.

Ted Willhoite was recognized many times by the people of Grapevine. He was honored as Grapevine's Citizen of the Year, received the Melvin Jones Fellowship Award from the Lion's Club, was named the Paul Harris Fellow by the Rotary Club, and was the Northeast Tarrant County's and Grapevine's Volunteer of the Year. Posthumously he received the Hardy Sanders Community Spirit Award from the Star Telegram. He was an exemplary man who was willing to share his time, talent and resources with the community who loved him.