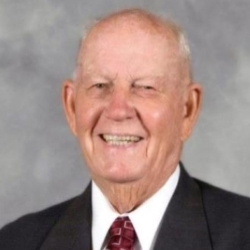 Ted R. Ware
Civic Leader
Ted Richard Ware graduated as valedictorian of Grapevine High School in 1950, where he was active in football, choir, and other activities. He married his high school sweetheart Gloria Jean Trigg in 1952, made his home in Grapevine, and started his business Ware Painting.
After successfully establishing his business, he turned to serving the community and becoming a respected civic leader. He was one of the founding members of Memorial Baptist Church, now Church at the Cross, and was elected as the Training Union Director. He also served as a deacon and sang in the choir for over six decades.
He served on the Grapevine City Planning and Zoning Board for ten years, beginning in 1968. He was then elected to the Grapevine City Council serving as Mayor Pro Tem for most of his 29 years on the Council. During his years on the Council, Grapevine grew from a small market town to one of the leaders in the DFW area. After retiring in 2008, he served as chairperson on the City of Grapevine's Historic Preservation Commission. While on the Commission, he was a source for all things Grapevine and was able to relate the history of the various homes and buildings in the city. The Grapevine Museum complex is located in the Ted R. Ware Plaza, a fitting recognition of his dedication to preserving Grapevine history. Also, his plaque was the first to be placed on the City of Grapevine's Walk of Fame.
Ted was very active in the Grapevine High School Ex-Students Association helping with the Homecoming Parade for over 35 years. He was a fixture at the Ex-Students Banquet and celebrated the fact that he and Gloria, along with their four children, were all graduates of Grapevine High School. He was inducted into the Grapevine High School Hall of Fame in 1992. Due to his dedication to improving the growth of Grapevine while still preserving its hometown charm, he was named D.E. Box Citizen of the Year in 2001. In 2008, he and his wife Gloria received the Ted Willhoite Legacy Award for their continued efforts to improve conditions in the city. Ted never met a stranger and he was a great spokesperson for the City of Grapevine and all its attributes. His forward thinking made Grapevine a city rich in history.