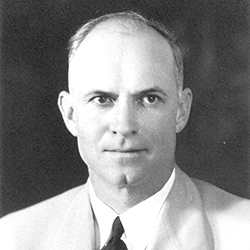 William Franklin Cannon, Jr.
Educator

W.F. Cannon was passionate as an educator and visionary as a Superintendent. He graduated from North Texas State College, Denton, where he lettered in track and taught in several public schools before moving to Grapevine. W.F. Cannon is the district's longest serving superintendent from 1938 to 1958; he laid the foundation for GCISD's dedication to excellence. The school system expanded quickly after the war, with students bussed from six surrounding communities. Because of this growth, during his tenure the school district built a new 1st – 8th grade school, homemaking cottage, shop, and, finally, a new high school. W.F. Cannon was so loved by the community that the Cannon Elementary School was named for him.

During the war years, he did it all, including performing general maintenance, driving the school bus, coaching sports, and even substituting when needed. In those years he organized the school and teachers to help the war effort in numerous ways. He created his own "headstart" program by making sure every needy child had breakfast and clothes to wear, especially shoes.

He was heavily involved in the community as a member of the Grapevine Masonic Lodge, past president of the Grapevine Lion's Club, a member of the National Education Association, the Texas State Teachers Association, president of the Tarrant County Superintendent and Principals Association, and a member of the First Baptist Church of Grapevine. W.F. also assisted with rural postal deliveries, helped with funerals, drove the elderly, served on the Gas Rationing Board, and was state Director of the University Interscholastic League. This man had the talent and drive to do it all.