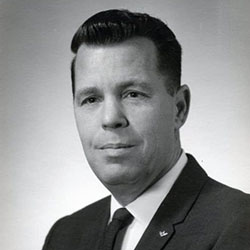 Jerry Grantham
Civic Leader
With family roots in both Grapevine and Colleyville, Jerry's quiet, diplomatic demeanor and leadership style helped unify the two communities when the school systems merged at a time of unprecedented growth in the district.
Jerry graduated from GHS in 1949 and his mother, wife and son are also GHS alumni. His ancestors settled in the area following the Civil War, and his wife, a descendent of Colleyville pioneers, still lives on the land where she grew up. He was captain of his high school basketball team.
Following high school Jerry served his country in the U.S. Army, U.S. Army Reserves, and U.S. Navy. He earned a teaching certificate from North Texas State Teacher's College, and later joined Braniff Airways as an aerospace engineer. It was on an extended business trip to England that he learned about the apprenticeship program there, and brought that idea back home to GCISD.
Just one year after returning to Texas he was elected to the GCISD Board of Trustees in 1965 where he served until 1975. During his tenure on the board numerous new campuses were built – the new Grapevine High School, Colleyville Middle School and Dove Elementary School. By 1968 Jerry was president of the school board and he began to focus on what he had observed in London. His vision culminated in the development of the regional vocational skills center where students from across the area were afforded a wide variety of vocational opportunities. The agriculture department was updated and students were able to earn certifications and gain experience in cosmetology, printing, welding, plumbing, electricity and mechanics. Students in the building trades, led by a licensed construction teacher, built whole houses in the area. Jerry was asked to turn the first spade of earth at the groundbreaking ceremony for the center, and considered it his proudest achievement while on the board.
Jerry's career later involved worldwide travel for the Lord Corporation and he was posthumously awarded the prestigious Hugh C. Lord award for innovation in developing groundbreaking safety technology still in use in the aerospace industry. He was also named GHS Outstanding Alumni in 1975.
Although his career and public service kept him busy, he still found time to enjoy his hobbies and headed the Grapevine Golf Association, restored classic antique cars and built heirloom quality handmade furniture in his woodworking shop.
Jerry recognized the challenges facing his hometown and alma mater and became a positive force in building trust and cooperation in the community. His vision and leadership helped establish a strong framework which enabled the district to move forward at a critical time. He served humbly with great dedication and brought distinction and honor to GCISD.