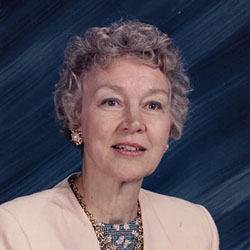 Marion Brekken
Civic Leader
Marion Brekken and her family moved to Grapevine in 1978, and she soon began to distinguish herself as a dedicated community volunteer and leader.


She was born in Wisconsin and was valedictorian of her high school class, evidence of her commitment to excellence in education. A Phi Beta Kappa graduate of the University of Wisconsin-Madison, she worked as a medical technician early in her career. Two of her three children are GCISD graduates, and Marion volunteered on several booster clubs, PTA and the GHS Ex-Students Association.


Marion's civic leadership began in 1980 when she was elected to the Grapevine City Council, and was in office until 1986. During her council tenure she acted as liaison to the Library Board and was in various leadership positions with the Friends of the Library. One of Marion's proudest achievements was her success in starting a local public library while living in San Antonio prior to her move to Grapevine.


Following her tenure on City Council Marion was elected to the GCISD Board of Trustees and served from 1990-1997; she was president from 1995-1997. Her passion for and desire to enhance the quality of education led her to become a Founding Director of the GCISD Education Foundation in 1998. During her eleven years with the Foundation she was President, Vice President and Secretary, contributing to the Foundation's success in fundraising, public relations and program allocations. She was named Distinguished Friend in 2015.


Many local organizations benefited from Marion's participation, and she was honored by several. She was selected as the Grapevine Chamber of Commerce's D.E. Box Citizen of the Year in 1987, and was the Women's Division Woman of the Year in 1990. She was a founding member of Keep Grapevine Beautiful and earned their Lifetime Achievement Award in 2012 in recognition of her twenty years of service. The Grapevine Historical Society, the Heritage Foundation, and the Grapevine Garden Club all knew her as an active member. She helped with the writing of the GRAPEVINE'S MOST UNFORGETTABLE CHARACTERS book.


Marion was on the Baylor Medical Center at Grapevine board of trustees from 1981-1990, and the Texas Lutheran Board of Regents from 1995-2002. In addition she held advisory positions for the American Cancer Society and Texas Bank.


She served her community with honor, distinction and excellence, totally committed to the improvement of the city and school district.